Le massacre des Innocents, une construction mémorielle
The Slaughter of the Innocents provides the date of birth of Jesus and gives the starting point of the persecutions of Christians. Although this event plays a functional role in Christian literature, the Gospel of Matthew is the only text that discusses it. Other evangelists, as well as the Jewish historian Flavius Josephus, who all share the reprobation of Herod's crimes, never mention such an event. The only testimony which could indirectly attest to the Slaughter of the Innocents is a joke by Augustus, declaring that it would be better to be Herod's pig than his son. This pleasantry, known though its mention in a late anthology, owes its success to the cultural context at the Imperial Court where Greco-Roman puns were in vogue. Augustus' witticism is a mixture of Roman common place thinking on infanticide and an anti-Jewish slur referring to the abstinence from pork. The Christian amalgam between the children of Bethlehem and the sons of Herod is not, however, due to Augustus, it is an a posteriori addition, popularized by collective memory.
Le massacre des Innocents fixe la date de naissance de Jésus et donne le point de départ des persécutions. Cependant, l'évangile de Matthieu est le seul texte à évoquer cet événement qui joue un rôle fonctionnel dans la littérature chrétienne. Ni les autres évangélistes, ni l'historien juif Flavius Josèphe, qui partagent la même réprobation des crimes d'Hérode, n'en disent mot. Le seul témoignage qui pourrait l'attester indirectement est une plaisanterie d'Auguste, déclarant que mieux valait être le porc d'Hérode que son fils. Connue par l'anthologie tardive de Macrobe, ce bon mot doit son succès, dans le contexte culturel des calembours gréco-romains en vogue à la cour impériale, à la contamination entre un lieu commun pamphlétaire sur l'infanticide et une plaisanterie anti-juive sur l'abstinence du porc. L'amalgame chrétien entre les enfants de Bethléem et les fils d'Hérode n'est pas dû à Auguste, c'est une addition introduite a posteriori et popularisée par la mémoire collective.
Fichier principal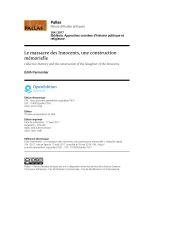 pallas-7631.pdf (483.2 Ko)
Télécharger le fichier
Origin : Publisher files allowed on an open archive