Sur la vulnérabilité au récit. Aspects des « situations narratives », de la sentence et du « cas » dans récits et carnets intimes
Rather than an analysis of vulnerability as a narrative subject-matter, such as war, bereavement or starvation stories, this article explores some of the ways in which, as subjects, we are exposed to the autonomous power of tales, a particular case of our vulnerability to language itself. This general vulnerability to stories arises not only in fictional narratives, but also in "natural" ones, regardless of the type of narrator. The situations in which stories are told usually involve interactions between a narrator and his audience; telling tales is a two-sided process in which the position of the participants in relation to the unfolding of the story may be reversible. Several aspects of the production and reception of narrative texts are examined from this perspective, namely a) the generation of precepts or maxims that sumarize or conclude different kinds of narrative sequences, including difficult "cases" that may challenge the receptor's understanding of the tale; as well as b) the old and widespread connexion between grief and stories, exemplified with excerpts from Cervantes testifying to the strength of oral narratives. The deep correlation between narrative situations, suffering and relief account for several contemporary treatments, including those developed by the ethics of care. They may also explain some features of private diaries, a contemporary literary form that adapts the narrative communication devices to frames and supports that cannot be dissociated from writing.
En lugar de un análisis de la vulnerabilidad tematizada en relatos testimoniales, como historias de guerra, de hambre, de duelo o de exilio, este trabajo explora de qué manera somos vulnerables a la pujanza autónoma del relato en sí mismo, que sería un caso particular de nuestra vulnerabilidad general respecto del lenguaje. Esta exposición al relato sucede tanto en relatos de ficción como ante narraciones "naturales" o de la vida cotidiana, sea cual sea su narrador o su tema. Las "situaciones narrativas" pueden estar marcadas por la interacción entre narradores y destinatarios del relato, así como por la potencial reversibilidad de sus posiciones respecto del desarrollo de la narración misma. Se revisan, desde esta perspectiva adoptada por los estudios sobre la vulnerabilidad, algunos aspectos de la fábrica y la experiencia receptiva del relato, en particular a) la producción de "sentencias" que resumen e interpretan, al hilo de la historia o a su fin, secuencias textuales de alcance y tamaño diversos, alguna vez difíciles "casos" que ponen a prueba a los destinatarios de la historia; así como b) la asociación cultural, antigua y muy extendida, entre relato y dolor, ilustrada con pasajes de la obra de Cervantes, que testimonian la intensa fuerza de los modos narrativos orales. La profunda vinculación de situaciones narrativas, sufrimiento y alivio ilumina los fundamentos de algunas prácticas terapéuticas actuales, por ejemplo las desarrolladas en el ámbito de la ética del care; pero también ciertos aspectos de la textura de los diarios íntimos, una forma literaria contemporánea que acierta a trasponer los circuitos comunicativos de la narración a soportes textuales esencialmente gráficos, indisociables de la escritura.
Cet article présente un examen des quelques facettes du narratif dans la perspective de la notion de vulnérabilité, dans le but d'une prise en compte des phénomènes se produisant lors de la production et de la réception des récits dans le cadre de l'éthique du care et en vue du développement des pratiques thérapeutiques. Plutôt que d'analyser la vulnérabilité thématisée dans des narrations testimoniales diverses (récits de guerre, d'exil, de famine, de deuil) cet article explore notre sensibilité à la puissance autonome du récit lui-même, qui serait un cas particulier de notre vulnérabilité générale vis-à-vis du langage. Cette exposition au récit se produit tout aussi bien dans le narratif fictionnel que dans les récits « naturels », quels que soient leurs sujets ou leur narrateur. Les « situations narratives » peuvent être marquées par l'interaction narrateur-récepteurs et par la réversibilité potentielle de leurs positions par rapport au développement du récit lui-même. Sont passés en revue, dans cette perspective privilégiée par les études sur la vulnérabilité, certains aspects de la fabrique et de l'expérience du narratif, notamment a) la production de « sentences » qui résument et interprètent, au fil du récit ou à sa fin, des ensembles textuels de portée diverse, parfois des « cas » difficiles mettant le récepteur à l'épreuve, ainsi que b) l'association, ancienne et répandue, du récit et de la douleur, illustrée avec quelques passages de Cervantès, qui témoignent de la prégnance des modes narratifs oraux. La profondeur des liens qui unissent les situations narratives, la souffrance et le soulagement éclaire les fondements de quelques pratiques thérapeutiques actuelles, comme celles qui se sont développés dans le cadre de l'éthique du care, mais aussi certaines composantes de l'écriture des carnets intimes, une forme littéraire contemporaine qui transpose les circuits communicationnels du narratif à des supports textuels pour l'essentiel graphiques.
Fichier principal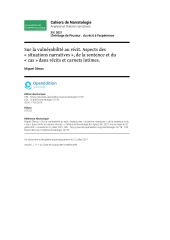 olmos_vulnerabilite_narratologie-12178.pdf (303.28 Ko)
Télécharger le fichier
Origin : Publisher files allowed on an open archive