Evaluation and comparison of basic gestures in ex vivo laparoscopic surgery using a robotic instrument and traditional laparoscopic instruments
BackgroundThe robotic Dextérité Surgical™ arm (DEX) is an instrument used in laparoscopy that provides 6 degrees of freedom and 360 degrees of rotation with a needle holder and scissors. To evaluate the benefits this instrument offers, we asked novice surgeons to use DEX and a conventional laparoscopic instrument on a pelvitrainer and compared the results.MethodsThe participants were asked to perform two exercises with DEX and then with a conventional laparoscopic instrument on a pelvitrainer that contained a synthetic reproduction of a male pelvis. For the stitching exercise, the distance from the marked points and any tears caused were analyzed. For the cutting, the participants were judged by how well they respected the marked extremities, the form and the amount of "hacking" observed on a multi-criteria scale. The amount of time required to carry out the exercises was recorded.ResultsAll twelve urology interns all succeeded in using DEX. Of the 36 stitches, seven were giving a failing grade (19.4%) when using the conventional laparoscopic needle holder and one (0.3%) was recorded when using DEX. All of the criteria (entry and exit points, tears and duration) for the results obtained were better when using DEX compared to the classic laparoscopic tool. This difference was statistically significant for horizontal stitches and tearing. Concerning the cuts made, the global score obtained, following a multi-criteria scale, favored the use of DEX for 10 out of 12 candidates (83.3%) with an average score of + 2.6 (± 2.1). No significant difference was recorded for the duration of each exercise.ConclusionIt does not take novice operators long to understand how to use DEX. It enables precise stitching and reduces tearing while improving the quality of cuts compared to conventional laparoscopic instruments, all without slowing the user down.
RésuméIntroductionLe bras robotisé Dextérité Surgical™ (DEX) est un instrument utilisé en laparoscopie permettant 6 degrés de liberté et une rotation de 360 degrés avec un porte-aiguille ou un ciseau. Pour évaluer les bénéfices de cet instrument, nous avons comparé l'utilisation de DEX avec les instruments de laparoscopie conventionnelle chez des chirurgiens débutant sur pelvitrainer.MéthodesLes participants devaient réaliser 2 exercices (passage d'aiguille et découpe) avec DEX puis des instruments de laparosocopie sur des pelvitrainers contenant une reproduction synthétique de pelvis masculin au fond duquel était fixée une lame en silicone. Pour le passage d'aiguille, l'écart entre les points d'entrée et les points de sortie prévus ainsi que les déchirures étaient analysés. Pour la découpe, le respect des extrémités, la forme ainsi que l'aspect haché étaient évalués sur une échelle multicritères. Le temps de réalisation des exercices était chronométré.RésultatsLes douze internes d'urologie ont réussi a utilisé DEX. Sur les 36 passages de points, sept échecs (19,4 %) ont été constatés avec le porte aiguille de laparoscopie et 1 avec DEX (0,3 %). Sur tous les critères (points d'entrée, de sortie, déchirure, temps) les résultats obtenus apparaissaient meilleurs avec DEX par rapport à la laparoscopie classique. Cette différence était statistiquement significative pour le passage des points horizontaux, et les déchirures. Pour la découpe, le score global obtenu selon l'échelle multicritères favorisait DEX pour 10 candidats sur 12 (83,3 %) avec un score de + 2,6 (± 2,1). Il n'y avait pas de différence significative pour la durée de réalisation des exercices entre les 2 instruments.ConclusionsDEX est manipulable rapidement par des opérateurs peu expérimentés. Il permet un passage d'aiguille plus précis avec moins de déchirure et améliore la découpe par rapport à la laparoscopie conventionnelle, sans ralentir l'exécution des gestes.
Fichier principal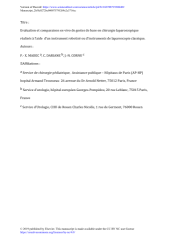 S1166708719306402.pdf (389.54 Ko)
Télécharger le fichier
Origin : Files produced by the author(s)