Urban Services, Vectors for 'Intercommunality'?
LES SERVICES URBAINS, VECTEURS DE CONSTRUCTION INTERCOMMUNALE ?
The recent decentralization reforms in France identify "intercommunality" (institutionalized municipal cooperation) as the reference level for the implementation of local policies. Inhabitants are however struggling to acknowledge these institutions, either ignoring or not paying attention to them. Conversely, the population understands more clearly 'local' community policies such as water management, waste collection and treatment, and public transport. These urban services could therefore represent a gateway to develop 'intercommunal culture', or a means to overcome the municipal scale and endorse an expanded territory. As studying these services permits analysis of the relationship between inhabitants and intercommunality, 600 questionnaires and 50 interviews were undertaken in the Le Havre (CODAH) and Rouen (CREA) urban areas.
Les dernières réformes de décentralisation définissent l'intercommunalité comme un échelon de référence dans la mise en œuvre des politiques locales. Les habitants peinent cependant à s'approprier ces territoires. Ils méconnaissent ces organisations, voire s'en désintéressent. A contrario, les politiques communautaires « de proximité » apparaissent davantage identifiées (gestion de l'eau, collecte et traitement des déchets, transports collectifs). Dès lors, ces services urbains pourraient représenter une porte d'entrée dans la culture intercommunale, un moyen de dépasser l'échelon municipal et de faire sien le territoire élargi. Il s'agira, à travers ces services, d'analyser la relation habitants-intercommunalité. Pour ce faire, 600 questionnaires et 50 entretiens ont été réalisés dans les Communautés de l'agglomération havraise (CODAH) et de Rouen-Elbeuf-Austreberthe (CREA devenue « Métropole »).
Fichier principal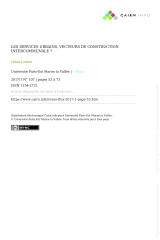 FLUX1_107_0053.pdf (1.31 Mo)
Télécharger le fichier
Origin : Publisher files allowed on an open archive