DIE BERICHTE ZUR NACHHALTIGEN ENTWICKLUNG : VON EINER GLOBALEN ZU EINER LOKALEN LOGIK DER FALL VON TOTAL – REGION HAUTE-NORMANDIE
Sustainable development reports, from a global to a local logic: Total - Haute-Hormandie
Los informes del desarrollo sostenible. De una lógica mundial a una lógica local El caso de total en el departa mento de alta Normandía
Les rapports de développement durable : d'une logique globale à une logique locale. Le cas de Total – raffinerie de Normandie
Die Berichte zur nachhaltigen Entwicklung, die zum Instrumentarium der gesellschaftlichen Verantwortung der Unternehmen gehören, werden oft als "Schaufenster für Umweltund Sozialstandards" angesehen ; sie sind integrativer Bestandteil der global ausgerichteten institutionellen Kommunikationslogik. Nun werden die Forderungen der lokalen beteiligten Parteien den Unternehmen immer bewusster. Sie sind es sich nunmehr schuldig, Antworten zu finden, die den lokalen Anforderungen gerecht werden, um ihre Legitimität zu sichern. Diese Ziele der Legitimität und Nähe erscheint kohärent, aber sie sind manchmal schwer zu vereinbaren. Zum Thema der gesellschaftlichen Verantwortung der Unternehmen, hat das Unternehmen, das als Studienobjekt dient (die Raffinerie de Normandie der TotalGruppe) einen lokalen Bericht zur nachhaltigen Entwicklung mit dem Titel "rapport sociétal et environnemental" verfasst. Die Umfokussierung von einem globalen zu einem lokalen Bericht, die eine bottom upTendenz in der Anhörung der beteiligten Parteien erkennen lässt, stellt eine ganz unkonventionelle Informationsquelle dar : die Anhörung der beteiligten Parteien ist Bestandteil eines auf Mitverantwortung abzielenden Vorgehens, das von einem Prozess kollektiven Lernens zeugt.
Sustainable development reports are part of the toolbox for corporate social responsibility. They often serve as a social and environmental showcase. They fit into a rationale of institutional communication with global aims. Firms are increasingly aware of the requirements set by local parties; their response must be in line with a "territorial logic" in order to ensure their legitimacy. The objectives of legitimacy and proximity appear coherent but are sometimes hard to make compatible. As part of its tools for corporate social responsibility, the firm studied herein (a refinery in Normandy belonging to the group Total) drew up a local sustainable development report. The conjugation of local and global sustainable development reports was evidence of a bottom-up approach in dealings with local parties. It was a source of information of a different sort; consulting local parties was an element in a participatory approach that fit into a process of collective learning.
Los Informes de Desarrollo Sostenible (IDS), una de las herramientas de la res ponsabilidad social empresarial (RSE), son a menudo figuras de "escaparate medioam biental y social", son parte de una lógica de comunicación corporativa global. Sin embargo, las empresas son cada vez más conscientes de las exigencias de los actores locales. En adelante tienen que dar respues tas que se inscriban en una lógica territorial para garantizar su legitimidad. Estos objetivos de legitimidad y proximi dad parecen coherentes, pero a veces son difíciles de alcanzar. Entre las herramientas de responsabilidad social empresarial, la empresa objeto de este estudio (la refinería de Normandía del grupo Total) ha desarrollado un IDS local llamado Informe social y medioambiental. La decli nación de un IDS global en un IDS local, que revela una tendencia bottom up en la consulta de los actores locales, es una Fuente de información de un tipo diferente: la consulta de los actores locales es un element de un enfoque participativo que demuestra un proceso de aprendizaje colectivo.
Les rapports de développement durable (RDD), un des outils de la responsabilité sociale des entreprises (RSE ), font souvent figures de « vitrine environnementale et sociale » ; ils s'inscrivent dans une logique de communication institutionnelle à visée globale. Or, les entreprises prennent de plus en plus conscience des exigences des parties prenantes locales (PPL). Elles se doivent désormais d'apporter des réponses qui s'inscrivent dans une logique de territoire, afin d'assurer leur légitimité. Ces objectifs de légitimité et de proximité paraissent cohérents, mais ils sont parfois difficiles à concilier. Parmi les outils RSE, l'entreprise objet de l'étude (la raffinerie de Normandie du groupe Total) a élaboré un RDD local intitulé Rapport sociétal et environnemental. La déclinaison du RDD global en un RDD local, révélatrice d'une tendance bottom up dans la consultation des PPL, constitue une source d'information d'une nature différente : la consultation des PPL est un élément d'une démarche participative qui témoigne d'un processus d'apprentissage collectif.
Fichier principal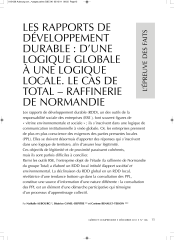 Article de GC dec 2011 AUBOURG.pdf (240.5 Ko)
Télécharger le fichier
Origin : Explicit agreement for this submission