Les Quatre fois de Michelangelo Frammartino
Michelangelo Frammartino's Le Quattro Volte (2010) is a rather "confidential" but very original film d'auteur which enjoyed great success and won a large number of awards, including the prestigious David-de-Donatello Award. The film was defined by its director as being "Franciscan" because of his asserted rejection of all forms of anthropocentrism. In Le Quattro Volte, mankind is presented as being just one of the various forms of "presence in the world" – a human presence being no different from that of an animal, a plant or even an object. Such an interpretation of the world implies that all beings, without distinction, are equal and, in principle, their existence legitimate. The correspondence between that vision of the world and Franciscan ethics is relevant, to be seen especially in the Canticle of the Sun, the first literary text written in vernacular Italian, which is remarkable for the boldness of its attitude – to consider all "creatures" with the same degree of empathy. In turn, Frammartino's film treats all beings with the same respect and without any form of pathos. By doing so, Frammartino creates a new poetic narrative, in which matter is the protagonist, with a view to re-enchanting our vision of the universe.
Les Quatre Fois (2010) de Michelangelo Frammartino est une œuvre assez confidentielle mais très originale qui a obtenu un réel succès en tant que film d'auteur et reçu de nombreux prix dont le prestigieux David-de-Donatello. Le film a été défini comme « film franciscain » par son auteur en raison de son refus revendiqué de toute forme d'anthropocentrisme. Dans Les Quatre Fois, l'homme est regardé comme une présence au monde parmi d'autres, au même titre que l'animal, la plante et même l'objet. Une telle démarche place les êtres, sans distinction, sur un plan d'égalité et confère à leur existence une légitimité de principe. Le parallèle avec une éthique franciscaine est pertinent, notamment dans le Cantique de frère Soleil, premier texte littéraire en langue vulgaire de la littérature italienne, qui surprend par son audace : celle de considérer toutes les « créatures » avec la même empathie. À son tour, Frammartino filme les êtres avec un égal respect et sans aucun pathos. Ce faisant il construit un nouveau récit poétique, dont la protagoniste est la matière, visant ainsi à réenchanter notre vision de l'univers.
Fichier principal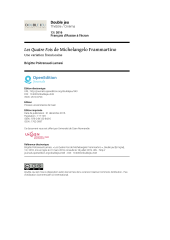 doublejeu-343.pdf (165.57 Ko)
Télécharger le fichier
Origin : Publisher files allowed on an open archive