An experimental study of turbulence generation and decay in Taylor-Couette system due to an abrupt stoppage
This study presents an innovative approach towards the generation and decay of turbulence in the Taylor-Couette system. The cylinders were brought to an abrupt stoppage that generated turbulence in the system, which was initially in the laminar ow region. Two complementary experimental approaches, namely visualizations and stereo-PIV measurements, were used to better understand the presented phenomenon for three different configurations at multiple rotation rates but always starting in the laminar ow region : only external cylinder, co-rotation and counter-rotation. For only external cylinder rotation, the lowest threshold limit of outer Reynolds number to was found to be
Cette étude présente une approche novatrice de la génération et de la décroissance de la turbulence dans l'écoulement de Taylor-Couette, l'écoulement entre deux cylindres coaxiaux en rotation. A partir d'uń ecoulement initialement laminaire, les cylindres sont soumisà un arrêt brutal qui génère l'apparition de turbulence transitoire. Deux approches expérimentales complémentaires, les visualisations et les mesures de vitesse par stéréo-PIV, ontété utilisées pour mieux comprendre le phénomène présenté pour plusieurs vitesses initiales de rotation correspondant toujoursà unécoulement laminaire. Trois configurations différentes peuventêtre distinguées : rotation du cylindre extérieur seulement, co-rotation et contra-rotation. Lorsque seul le cylindre extérieur est en rotation, le seuil d'apparition de la turbulence correspondà un nombre de Reynolds extérieur initial Reo = 606. En co-ou contra-rotation, ce seuil diminue jusqu'à une valeur minimale de Reo = 433. Dans tous les cas, le retourà l'écoulement laminaire est plus lent qu'en stoppant le systèmeà partir d'unécoulement turbulent. Contrairement a l'étude de Verschoof et al. [12], une décroissance auto-similaire de la turbulence n'a pasété observée.
Fichier principal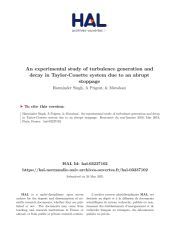 Singh_Harminder_CompteRendu (1).pdf (1.27 Mo)
Télécharger le fichier
Origin : Files produced by the author(s)
Dates and versions
Identifiers
HAL Id :

hal-03237102 , version 1
Cite
Harminder Singh, A Prigent, Innocent Mutabazi. An experimental study of turbulence generation and decay in Taylor-Couette system due to an abrupt stoppage.
Rencontre du non-lineaire 2019
, Mar 2019, Paris, France.
⟨hal-03237102⟩
Collections