Par le détour de l'humour. Le rire dans les groupes de supporters de football
It may be incongruous to hold humour as a modality of involvement in the football spectacle. Apparently, the game is not a funny story. This seems true if one takes the radical supporters groups for field of investigation. Yet, making people laugh occupies an important place among the qualities valued within these groups. The scenes where the supporters stand are territories for humorous words circulation. Apparently anecdotal, laugh is heuristic if one considers that the combative dimension of the supporters' commitment on the one hand, the festive and facetious dimension on the other, form the two sides of the same coin. Thus, humour is a relevant way to grasp the motives of the action and in particular the transition to the violent act, seen as the result of both integration and the establishment of a boundary between the inside and the outside of the group.
Retenir l'humour comme modalité de participation au spectacle footballistique peut paraître incongru. A priori, le match de football n'est pas une histoire drôle. La chose semble entendue si l'on prend pour terrain d'enquête les collectifs de supporters radicaux. Pourtant, la capacité à faire rire occupe une place importante parmi les qualités valorisées au sein de ces groupes et les lieux de la présence supportériste sont autant de territoires de circulation de la parole humoristique. En apparence anecdotique, la question du rire se révèle heuristique si l'on considère que la dimension combative de l'engagement supportériste, d'une part, et la dimension festive et facétieuse, d'autre part, forment les deux faces d'une même pièce. Ainsi, l'humour forme une voie d'entrée pertinente pour saisir les motifs de l'action et notamment le passage à l'acte violent, vu comme le résultat de l'intégration au collectif et de la fixation d'une frontière entre l'intérieur et l'extérieur du groupe.
Fichier principal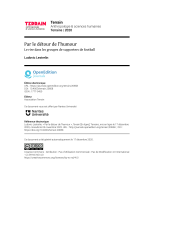 terrain-20858.pdf (879.92 Ko)
Télécharger le fichier
Origin : Publisher files allowed on an open archive