Portuary governance, a developmental issue in the Eastern Baltic
Gobernanza portuaria : un reto para el desarrollo del Báltico oriental
La Gouvernance portuaire, un enjeu de développement en Baltique orientale
Over the past two decades, the Baltic sea has known multiple upheaveals, both political and economic. They have notably forced ports to change and adapt to the evolving maritime industries. The ports of the Eastern Baltic have gone from a complementary position as instruments of Soviet collectivism to becoming integrated within a global maritime and portuary system that is synonymous with liberalism. In addition, the issue of modifying governance and portuary regulations, within a rapidly evolving area, is of particular interest to the Baltic space. A literature review and a fieldwork based on two dozen interviews (with elected officials, representatives of port authorities, directors of dock handling companies, heads of chambers of commerce, lobbyists…) highlights how the choices of actors structure ports and affect territorial development (ports, urban areas, inland).
Desde hace dos décadas el mar Báltico se ha visto afectado por múltiples conflictos geopoliticos y económicos, que han obligado a los puertos a transformarse y adaptarse a los cambios del sector marítimo. Los puertos del Báltico oriental han pasado de ser instrumentos complementarios del colectivismo soviético a su integración, en un contexto de liberalismo, como parte del sistema marítimo y portuario mundial. En una zona en profunda transformación es muy relevante la modificación de la normativa y el modelo de gobernanza portuario.
Depuis une vingtaine d'années, la mer Baltique a été touchée par de multiples bouleversements d'abord géopolitiques, mais également économiques. Ceux-ci ont notamment obligé les ports à se transformer et à s'adapter aux évolutions de l'industrie maritime. Les ports de la Baltique orientale sont passés d'une situation de complémentarité, instruments du collectivisme soviétique, à une intégration dans le système maritime et portuaire mondial synonyme de libéralisme. Aussi, la question de la modification de la gouvernance et des régulations portuaires au sein d'une région en pleine mutation intéresse particulièrement l'espace baltique. Une revue de littérature ainsi qu'un travail de terrain appuyé sur une vingtaine d'entretiens (auprès d'élus, représentants des autorités portuaires, directeurs d'entreprises de manutention, responsables de chambres de commerce, lobbyistes…) permettent de mettre en lumière la manière dont les jeux d'acteurs structurent les places portuaires et impactent le développement des territoires (portuaires, urbains, arrière-pays).
Fichier principal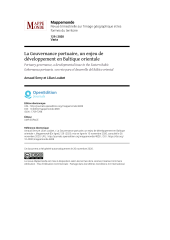 Serry-Loubet-mappemonde-2020.pdf (1.11 Mo)
Télécharger le fichier
Origin : Files produced by the author(s)