La Paix menacée par la démesure dans le Poème d'Erra ? Ou le motif de la guerre des étoiles en Mésopotamie et ses échos en Grèce 
The author first explains how was conceived in Mesopotamia in everyday life, and then which warlike gods divinities the ancient Mesopotamians had imagined in order to analyze Erra's unbounded behaviour in the Poem of Erra (an akkadian mythological text written by 800 B. C.). The pattern of "the Star Wars" is then brought into focus since it expresses the acme of the quarrelsome fury of the warlike god Erra which threatens universal peace. During the commentary of the text (and in the appendix), are suggested various possible echoes with the Poem of Erra in Greek literature. In conclusion, the author highlights the apotropaïc function of the poem which contributes to explain the increasing excesses of Erra during the narrative.
Après avoir rappelé d'abord comment on concevait la guerre au quotidien en Mésopotamie, puis quelles divinités on y avait imaginées pour présider aux combats, l'auteur analyse la démesure à l'œuvre dans le Poème d'Erra, composition mythologique akkadienne datant de 800 avant notre ère, en insistant sur le motif de "la guerre des étoiles" puisqu'il exprime le comble de la fureur belliqueuse du dieu de la guerre Erra qui menace la paix universelle ; au cours du commentaire du texte (et dans l'annexe), sont évoqués divers échos possibles au Poème d'Erra dans la littérature grecque. En conclusion, l'auteur met en évidence la fonction apotropaïque du poème qui permet d'expliquer la démesure croissante du personnage d'Erra au cours du récit.
Fichier principal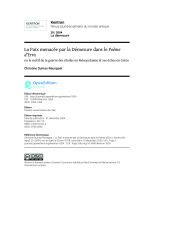 kentron-1824 (1).pdf (441.77 Ko)
Télécharger le fichier
Origin : Publisher files allowed on an open archive