Eine Zusammenarbeit zwischen verschiedenen Akteuren des Kulturerbes und der Forschung: die Digitalisierung und Indexierung der Urkunden und anderer Dokumente der Trinität von Fécamp, die im Palais Bénédictine aufbewahrt werden
A Collaboration between Different Heritage and Research Actors: the Digitisation and Indexation of the Charters and Other Documents of the Trinity of Fécamp Kept in the Palais Bénédictine
Une collaboration entre différents acteurs du patrimoine et de la recherche : la numérisation et l'indexation des chartes et autres documents de la Trinité de Fécamp conservés au Palais Bénédictine
Una collaborazione tra diversi attori del patrimonio e della ricerca: la digitalizzazione e l'indicizzazione delle carte e di altri documenti della Trinità di Fécamp conservati nel Palais Bénédictine
Der Artikel stellt die Zusammenarbeit zwischen der Firma Bacardi France, den Archives départementales de la Seine-Maritime und Craham bei der Digitalisierung und wissenschaftlichen Nutzung der im Palais Bénédictine in Fécamp aufbewahrten alten Bestände der Abtei der Dreifaltigkeit von Fécamp vor. Nach einer Darstellung des wissenschaftlichen Hintergrunds der Entstehung des Projekts und der durch eine Vereinbarung geschaffenen Zusammenarbeit wird die Sammlung von Dokumenten aus Fécamp vorgestellt, auf die sich das Vorhaben bezieht. Darunter befinden sich einige der ältesten normannischen Urkunden und kürzlich (2012) wiederentdeckte Dokumente. Mehrere dieser Stücke waren Teil einer größeren Aktion zur Digitalisierung von Urkunden aus der Zeit vor 1204, die in den Archiven des Departements Seine-Maritime aufbewahrt werden, sowie einer Forschungsarbeit über das Chartrier der Abtei Fécamp vor 1190, die zu einer 2019 verteidigten Dissertation führte. So war es möglich, mithilfe digitaler Ressourcen eine virtuelle Rekonstruktion dieses Chartriers anzubieten. Weitere Verlängerungen waren möglich, insbesondere im Rahmen des Vexicaen-Projekts und der jüngsten Entwicklung von Scripta, der Datenbank für normannische Urkunden vor 1300: Dies gilt insbesondere für die Einfügung von digitalen Bildern in dieses Datentool.
The paper presents a collaboration between the company Bacardi Limited France, the Archives départementales de la Seine-Maritime and Craham, for the digitization and scientific valorisation of the ancient collections of the abbey of Trinity of Fécamp, kept in the Palais Bénédictine at Fécamp. First, the paper exposes the scientific context of the project genesis and the cooperation through an agreement between the three institutions; secondly the article presents the collection of the Fécamp documents which are concerned by the operation, among them are found some of the oldest Norman charters and other recently rediscovered documents (2012). A part of these items have been included in a vast digitization programme of the charters prior to 1204 kept at the Archives départementales of Seine-Maritime, and into a research enquiry on the muniments of the abbey of Fécamp before 1190, which has lead to a PHD dissertation, finished in 2019 as well. I was thus possible, thanks to digital resources, to offer a virtual reconstruction of these muniments. Other outcomes have been made possible, through the Vexicaen project and the recent evolution of the Scripta database (Norman charters before 1300): in particular, the integration of digital pictures in this database.
L'article présente la collaboration entre la société Bacardi France, les Archives départementales de la Seine-Maritime et le Craham pour la numérisation et la valorisation scientifique des fonds anciens de l'abbaye de la Trinité de Fécamp conservés au Palais Bénédictine à Fécamp. Après avoir exposé le contexte scientifique de la genèse du projet et la coopération mise en place par le biais d'une convention, l'article présente la collection des documents fécampois sur laquelle porte l'opération, parmi lesquels figurent quelques-unes des plus anciennes chartes normandes et des documents récemment redécouverts (2012). Plusieurs de ces pièces ont intégré une action plus vaste de numérisation des chartes antérieures à 1204 conservées aux Archives de la Seine-Maritime, ainsi qu'une recherche sur le chartrier de l'abbaye de Fécamp avant 1190 qui a donné lieu à une thèse soutenue en 2019. Il a été ainsi possible, grâce aux ressources du numérique, de proposer une reconstitution virtuelle de ce chartrier. D'autres prolongements ont été possibles, en particulier dans le cadre du projet Vexicaen et de l'évolution récente de Scripta, base des chartes normandes antérieures à 1300 : c'est le cas en particulier de l'insertion d'images numériques dans cet outil de données.
L'articolo presenta la collaborazione tra la società Bacardi France, gli Archives départementales de la Seine-Maritime e il Craham per la digitalizzazione e la valorizzazione scientifica delle antiche collezioni dell'abbazia della Trinité de Fécamp conservate al Palais Bénédictine di Fécamp. Dopo aver delineato il contesto scientifico della genesi del progetto e la cooperazione stabilita attraverso un accordo, l'articolo presenta la collezione di documenti di Fécamp oggetto dell'operazione, tra cui alcune delle più antiche carte normanne e documenti recentemente riscoperti (2012). Molti di questi documenti sono stati inclusi in un progetto più ampio di digitalizzazione delle carte che risalgono a prima del 1204 e che sono detenute dagli archivi della Seine-Maritime, così come la ricerca sul carteggio dell'abbazia di Fécamp prima del 1190, che ha portato a una tesi che sarà difesa nel 2019. È stato così possibile, grazie alle risorse digitali, offrire una ricostruzione virtuale di questo libro di carte. Altre estensioni sono state possibili, in particolare nell'ambito del progetto Vexicaen e della recente evoluzione di Scripta, il database delle carte normanne precedenti al 1300: è il caso in particolare dell'inserimento di immagini digitali in questo strumento di dati.
Fichier principal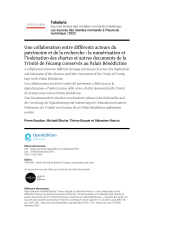 tabularia-5763.pdf (1.85 Mo)
Télécharger le fichier
Origin : Explicit agreement for this submission