La veine hypocondriaque dans la littérature grecque ancienne et byzantine
Bodily deficiencies are given much importance in autobiographical writings and epistolography. Examples drawn from Greek works (by Aelius Aristides, Libanius) or Byzantine ones (by Theophylact, Gregory Antiochos, Chortasmenos) show how deeply influenced by literary models ancient and medieval authors may be, when speaking about their own diseases: there is a rhetoric of the suffering self, whose influence upon individuals appears to be somewhat compelling. Otherwise it is noticeable that literary displays of hypochondria become more prominent at times of intensified interest in medicine – which are perhaps also times of secularization, when one begins to care for bodily health more than for salvation.
Le corps et ses déficiences occupent une place souvent considérable dans les écrits autobiographiques et dans la littérature épistolaire. L'étude d'une série d'exemples antiques (Aelius Aristide, Libanios) et byzantins (Théophylacte, Grégoire Antiochos, Chortasmenos) montre l'importance exercée par les modèles littéraires en matière d'écriture de la maladie : il existe une rhétorique du corps souffrant, dont le discours personnel subit la marque, de façon plus ou moins contraignante. On note par ailleurs une présence accrue du discours hypocondriaque à certaines époques de progrès médical et d'intérêt intensifié pour les mystères de la physiologie, époques peut-être aussi de laïcisation de la société où le souci de la santé prend le pas sur celui du salut.
Fichier principal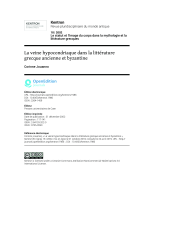 kentron-1986.pdf (378.64 Ko)
Télécharger le fichier
Origin : Publisher files allowed on an open archive