L'enseignement des sciences expérimentales, ou le débat récurrent du culturel versus utilitaire : quels problèmes ?
It is about a debate which crossed all the history of teaching of sciences emerging to each reform. This debate joins together the various tendencies and corresponds to various stakes : arts persons against scientists ; « anciens » against modern ; partisans of utility education against those which defend a not involved education. Fault of being able to seize all the details of such a vast subject, we will be based on an aspect, but an aspect which appears essential to us, the experimental character. If there is consensus on this dimension of the scientific teaching which will serve the reformers to modify the study plans, the contents of teaching and their methods, the « decisions curriculaires » differ according to the physical, chemical or biological disciplines, and show a process of « disciplinarisation » and recombining of the field which calls today : « sciences expérimentales »
Il s'agit d'un débat qui a surgi à chaque réforme, traversant ainsi toute l'histoire de l'enseignement des sciences. Ce débat réunit les différentes tendances et correspond à différents enjeux : littéraires contre scientifiques ; anciens contre modernes ; partisans de l'éducation utilitaire contre ceux qui défendent une éducation désintéressée. Faute de pouvoir saisir tous les détails d'un sujet aussi vaste, nous allons nous appuyer sur un aspect, mais un aspect qui nous paraît essentiel, celui du caractère expérimental. S'il y a consensus sur cette dimension de l'enseignement scientifique qui va être utilisé par les réformateurs pour modifier les plans d'études, les contenus d'enseignement et leurs méthodes, les décisions curriculaires diffèrent selon les disciplines physique, chimique ou biologique, et montrent un processus de « disciplinarisation » et de composition-recomposition du champ que l'on appelle aujourd'hui : sciences expérimentales.
Fichier principal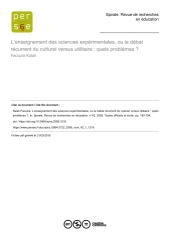 spira_0994-3722_2008_num_42_1_1218.pdf (234.41 Ko)
Télécharger le fichier
Origin : Publisher files allowed on an open archive