Figures de l'exclu et mécanismes de l'exclusion au temps de Bède le Vénérable
In Anglo-Saxon history and hagiography of the eighth century (the works of Bede and his contemporaries Stephen of Ripon, Felix of Crowland and several anonymous hagiographers and chroniclers), most characters never seem to know social exclusion. The study of several situations which can lead to exclusion (excommunication, defeat in battle, flight, exile, expulsion, isolation, poverty, widowhood and disease) shows that this is due to two main factors: the importance of these characters' social capital, and the authors' narrative strategy of reintegrating excluded individuals.
Dans les textes historiques et hagiographiques du VIIIe siècle anglo-saxon (l'œuvre de Bède et de ses contemporains, Stéphane de Ripon, Félix de Crowland et quelques hagiographes et chroniqueurs anonymes) les personnages semblent ne jamais connaître l'exclusion sociale. L'étude de quelques situations potentiellement génératrices d'exclusion (excommunication, défaite militaire, fuite, exil, expulsion, isolement, pauvreté, veuvage et maladie) montre que ce trait est dû deux facteurs principaux : l'importance du capital social de ces personnages, et une stratégie narrative des auteurs qui consiste à réintégrer les exclus.
Fichier principal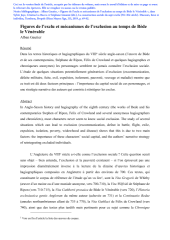 Figures de l'exclu.pdf (434.72 Ko)
Télécharger le fichier
Origin : Files produced by the author(s)