Quand la forêt devient un équipement de la ville : un parc animalier à l'échelle de l'agglomération rouennaise
Throughout the investigation of a conflict emerging from definitive closure of a wildlife park, the present study focus on local territorial mediations and their capacity to transform forest into city equipment. This study is based on fields and participant observations, territorial forest charters, quantitative surveys, qualitative interviews as well as local press articles. The wildlife park has been analysed in its spatial context, including one of the most human-made environment estuary in Europe as well as a metropolis suffering from its industrial past. The history of the wildlife park will then be traced to emphasise this conflicting situation. To solve this situation, a committee made up of regular park's visitors has been created. The committee has succeeded in bringing people together, making this conflicting situation the focus of media attention and have finally helped the park to be considered as a political priority. The local elected officials have taken on this opportunity to lead a forest policy, now making the forest a metropolis' equipment service.
À travers l'étude d'un conflit autour de la fermeture d'un parc animalier puis des concertations qui ont suivi, cette contribution propose d'interroger les médiations territoriales originales qui se créent et transforment la forêt en équipement de la ville. Pour répondre à cette interrogation, nous mobilisons un corpus qui croise observations de terrain et participantes, des documents produits dans le cadre de chartes, des repères quantifiés et des enquêtes qualitatives et des articles de presse qui retracent l'histoire du conflit. Nous étudions d'abord le parc dans son contexte spatial à savoir sa situation dans un des estuaires les plus anthropisés d'Europe et dans une métropole qui souffre d'une image négative liée notamment au poids de son industrie. Nous décrivons ensuite l'histoire du parc animalier pour comprendre les fondements du conflit. Face à la menace de fermeture, un comité d'usagers se crée et réussit à mobiliser, fédérer, rendre visible au travers des médias et finalement à placer le parc sur l'agenda politique. Finalement, les élus locaux se saisissent de cette opportunité pour mener une politique forestière à l'échelle de la métropole. La forêt devient alors un équipement de la ville.
Fichier principal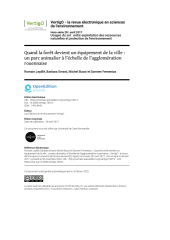 vertigo-18312.pdf (1.12 Mo)
Télécharger le fichier
Origin : Files produced by the author(s)