Étude des effets dominos sur un bassin industriel
Domino Effect (DE) can be initiated by several types of primary accidents, which are often caused by loss of containment (LOC). LOC can be considered as the most recurrent initiating event of accident sequences in the chemical industry. In this paper we clarify the concept of domino effect based on a solid literature research; we quickly go through the latest developments that study and propose to prevent DE. Then we explain our approach based on modelling of accident scenarios triggered by LOC, aimed at DE risk estimation for land use planning purpose and protection of populations.
Un Effet Domino (ED) peut être initié par plusieurs types d'accidents primaires, qui sont souvent causés par une Perte de Con finement (PDC). Cette dernière peut être considérée comme l'événement initiateur des séquences accidentelles le plus récurrent dans l'industrie chimique. Dans cet article, nous clarifions la notion d'ED sur la base d'une solide étude bibliographique. Ensuite, nous citons brièvement les travaux innovants qui proposent des méthodes pour l'étude et la prévention des EDs. Enfin, nous expliquons notre approche pour l'évaluation des risques d'EDs initiés par des PDCs, basée sur la modélisation des scénarios d'accidents, visant à faciliter la prise de décision pour l'aménagement du territoire et la protection des populations.
Fichier principal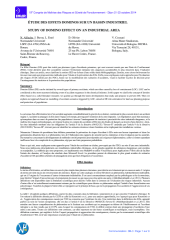 lm19_com_8B-3_165_N_Alileche.pdf (3.64 Mo)
Télécharger le fichier
Origin : Files produced by the author(s)