The 6th to 10th century settlement site at Grentheville (Calvados) within the context of the Mondeville Saint-Martin lands
L'habitat de la Sente à Grentheville (Calvados), VIe-Xe siècle, dans le contexte du terroir de Mondeville Saint-Martin
In der Flur la Sente der Gemarkung Grentheville, südöstlich von Caen (Calvados), fanden zwischen 1992 und 1998 Grabungen statt. Sie legten die Spuren einer Siedlung frei, die vom 6. bis zum frühen 10. Jh. bestand und zu einer Landschaft gehörte, deren Flurbild mindestens bis ins 2. Jh. n. Chr. zurückging, am Rand einer vermutlich spätrömischen Stätte. In der Hauptsache bestand die erste Phase dieser Siedlung aus ca. 20 Grubenhäusern, und die zweite, an gleicher Stelle, aus Ständerbauten mit Vorratsgruben. Diese Befunde ähneln sehr denen, die in der Flur La Delle Saint-Martin der Gemeinde Mondeville, 800 m nordöstlich von la Sente, aufgedeckt wurden. Die Funde der Grabung von la Sente werfen Fragen zum Charakter dieser Siedlung und zu ihrem Platz in der Hierarchie der frühmittelalterlichen Wohnplätzen auf, und allgemeiner in der Besiedlung einer Siedlungskammer, in welcher die zahlreichen Grabungen der letzten 40 Jahren eine große Dichte von Funden von der Vorgeschichte bis zum Spätmittelalter nachgewiesen haben.
Archaeological investigations carried out between 1992 and 1998 on the la Sente site at Grentheville, to the south-east of Caen, revealed evidence of a settlement occupied from the 6th to the early 10th century AD. It had developed on the outskirts of a presumed late-Roman settlement, within a landscape structured by land divisions originating from at least the 2nd century AD. The most significant occupation is characterised by an initial phase of twenty-odd sunken-featured buildings which are replaced in a second phase by buildings with footings and associated storage pits. These structures offer many similarities with those excavated on the La-Delle-Saint-Martin site at Mondeville, some 800m north-west of la Sente. Examination of associated finds raises questions concerning the settlement's function, its position in the hierarchy of early medieval habitat sites and more generally its place in a landscape densely occupied from prehistory until the end of the Middle Ages, as demonstrated by archaeology over the last forty years.
Le site de la Sente à Grentheville (Calvados), situé au sud-est de Caen, a fait l'objet, entre 1992 et 1998, de diagnostics et de fouilles qui ont mis au jour les vestiges d'un habitat daté entre le vie et le début du xe siècle prenant place dans un paysage structuré par un parcellaire remontant au moins au iie siècle après J.-C., en marge d'un établissement hypothétiquement du Bas-Empire. L'occupation la plus significative est caractérisée par une première phase constituée principalement d'une vingtaine de fonds de cabane, auxquels ­succèdent­, aux mêmes emplacements, lors d'une deuxième phase, des bâtiments sur solins associés à des silos. Ces vestiges présentent de nombreuses similitudes avec ceux mis au jour sur le site de la Delle Saint-Martin à Mondeville, localisé à quelque 800 m au nord-ouest de la Sente. La présentation du mobilier associé permet de s'interroger sur la nature de cet habitat et sur sa place dans la hiérarchie des lieux habités au cours du haut Moyen Âge et, plus largement, dans l'occupation d'un terroir où de nombreuses fouilles archéologiques réalisées depuis 40 ans ont démontré la présence d'une grande densité de vestiges depuis la préhistoire jusqu'à la fin du Moyen Âge.
Fichier principal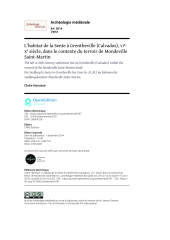 archeomed-8187.pdf (9.51 Mo)
Télécharger le fichier
Origin : Publisher files allowed on an open archive