Décalages identitaires dans le supportérisme à distance, entre illégitimité et authenticité : le cas de l'Olympique de Marseille
Supporting at the distance involves supporting a football team faraway from one's place of residence (sometimes several hundreds of kilometres away). This form of passion thereby designates an identifica- tion and mobilisation process in favour of football clubs with no local attachment to the supported team. This practice is not limited to following the club only through the media ; it also admits modalities of hard- line support, such as regularly following the team in each stadium it plays. But, more fundamentally, this particular mode of supporting supposes an original identity commitment. Free from territorial barriers, the supporters at the distance expose themselves to several forms of depreciation of their practice, as well with the partisans who share the local anchoring of the club that with close relations. The case of Olympique de Marseille is typical. On the one hand, the promoting mode of supporting is based on the exacerbation of the identity, the singularities and the idiosyncrasies that are specifics to the city in which the club is rooted (victim of many stereotypes in the French imaginary). On the other hand, there are numerous groups of supporters spread over many French regions who follow the team. They do not thus share the territorial anchoring of the partisans of Marseille. The analysis tries to define the sense of supporting at the distance by comparing the problems which expe- riment the individuals who are involved in this practice, the way they compose with these difficulties and the « identity work » in which the supporters at the distance are engaged to reverse the forms of depreciation.
Pratique militante consistant à soutenir une équipe éloignée de son lieu de résidence, le supportérisme à distance concerne aujourd'hui de nombreux amateurs de football. Processus d'identification et de mobilisation collective en faveur de clubs sans principe d'attachement local avec l'équipe supportée, il implique l'organisation de très fréquents déplacements en groupe permettant de suivre et d'encourager cette dernière sur l'ensemble des stades dans lesquels elle se produit. Plus fondamentalement, cette forme particulière de supportérisme suppose un investissement identitaire original et coûteux, au bout du compte décalé. S'affranchissant des barrières territoriales, les supporters à distance s'exposent, en effet, à de multiples formes de dévalorisation de leur pratique, aussi bien auprès des partisans qui parta- gent l'ancrage local du club soutenu que des personnes proches côtoyées quotidiennement. Le cas de l'Olympique de Marseille est à ce titre exemplaire. Alors que le mode de supportérisme qu'il promeut repose sur la valorisation, voire l'exacerbation, de l'identité et des particularismes locaux (réagissant ainsi à la réputation singulière dont souffrent le club et la ville de Marseille dans le paysage imaginaire français), l'équipe rallie de très nombreux supporters à distance résidant en France et à l'étran- ger et ne partageant pas l'ancrage territorial des partisans marseillais. L'analyse présentée ici propose de rendre compte du sens de la pratique du supportérisme à distance en situant en regard les problèmes qu'expérimentent les personnes qui y sont investies, la manière dont elles composent avec ces difficultés et le « travail identitaire » auquel les supporters à distance se livrent pour renverser les diverses formes de discrédit qui pèsent sur eux.
Fichier principal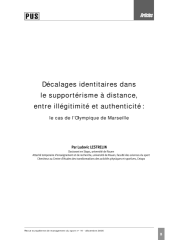 Lestrelin - Decalages-identitaires-dans-le-supporterisme-a-distance-entre-illegitimite-et-authenticite.pdf (124.4 Ko)
Télécharger le fichier
Origin : Publisher files allowed on an open archive