Young Alfred and the Vikings. From cooperation to confrontation?
Le jeune Alfred et les vikings. De la coopération à la confrontation ?
Alfred the Great has generally been described as the only Anglo-Saxon king who resisted the repeated and disruptive attacks of the "Great Heathen Army" in the 870s. By analysing the relationships between Alfred and his viking enemies in terms of "coopetition", I try to gain a better understanding of the way an Anglo-Saxon ruler in a difficult position could at the same time compete and cooperate with Scandinavian pagan invaders. I propose to analyse Alfred's early years of rule in Wessex (871-878) as essentially comparable with that of Ceolwulf II of Mercia and other "client kings", whose position depended on the support of the viking army. We know that the young Alfred had to make peace with the pagans immediately after he had become king, and several times again in the following years. But was that only to the advantage of the invaders, or only a stratagem intended to save time? Seeing Alfred as a client king engaged in a prolonged coopetition with the vikings does not mean that he was powerless or that he was a mere puppet: for a time, such a relationship would have been profitable to both parties. Crucially, it allowed Alfred to strengthen his position within his own kingdom; but only later was he able - with initially varied results but eventually with great success - to turn the tables and to become the senior partner in the relationship.
Fichier principal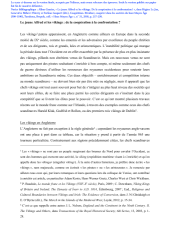 Gautier - Alfred et les vikings.pdf (338.32 Ko)
Télécharger le fichier
Origin : Files produced by the author(s)