Cartas e diários de mulheres: uma função memorialística ?
Correspondances et journaux de femmes : une fonction mémorielle ?
Correspondences and diaries pertain to the domain of private, possibly intimate archives. What role do women ascribe to their private diaries and correspondence? We will examine the case of three women who wrote profusely in their relation to famous men: Juliette Drouet (1806-1883), Victor Hugo's companion for fifty years, who wrote 22 000 letters to the great man; Catherine Pozzi (1882-1934), a literary woman, letter and diary writer, whose passionate and intellectual relationship with the poet Paul Valéry left deep traces in her and his works; Simone de Beauvoir (1908-1986), the famous intellectual, Sartre's partner and a writer of letters and diaries. What do these three cases reveal of women's attention to archives of the self, of their care for conserving them and of the uses they made of them?
Cartas e diários íntimos são peças de arquivos privados, ou mesmo documentos da intimidade. Que valor as mulheres atribuem a seus diários e correspondências? Elas se empenham em sua conservação, atribuindo a esses papéis alguma função memorialística? Pretendemos focalizar três mulheres que muito se devotaram à escrita, a exemplo de homens célebres com quem elas conviveram: Juliette Drouet (1806-1883), companheira de Victor Hugo durante 50 anos, endereçou 22.000 cartas ao famoso escritor; Catherine Pozzi (1882-1934), mulher letrada, epistológrafa e cultora do diário, viveu com o poeta Paul Valéry uma relação amorosa e intelectual, cujos traços ficaram profundamente gravados na obra de ambos; Simone de Beauvoir (1908-1986), intelectual renomada, parceira de Sartre, também se dedicou à epistolografia e à escrita de diários. O que nos dizem esses três casos acerca do eventual interesse feminino em relação ao arquivamento de si, ao cuidado na conservação desses escritos pessoais e às suas modalidades de uso?
Fichier principal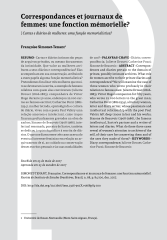 Simonet-tenant.pdf (296.13 Ko)
Télécharger le fichier
Origin : Publisher files allowed on an open archive