Rites de passage et récits de conversion : le témoignage de quelques Anglaises au milieu du XVIIe siècle
The breakdown of age-old rites of passage resulting from the collapse of the Church of England in the middle of the seventeenth century, led to the displacement and interiorization of ritual practices. The conversion narratives written by women from Congregationalist and Baptist churches show how rituals marking the stages of human life were spiritualised and transposed to inner life. When used as admission narratives, these testimonies became true rites of passage in the anthropological sense of the term, even overshadowing the traditional rite of baptism. The writing of conversion was used to ritualise and to commemorate this radical change, leaving traces or relics of conversion. :
La crise des rites de passage séculaires que provoque le démantèlement de l'Église d'Angleterre au milieu du XVIIe siècle, conduit à l'intériorisation des pratiques rituelles. Les récits de conversion composés par des femmes issues des Églises congrégationalistes et baptistes, montrent comment des pratiques naguère inscrites dans les grands rythmes de l'existence sont spiritualisées et transposées à la vie intérieure. Lorsqu'ils servent de récits d'admission, ces témoignages tiennent lieu de rites de passage au sens anthropologique du terme, au point de se substituer au rite traditionnel du baptême. L'écriture autobiographique ritualise et commémore le passage en laissant sur le papier des traces ou des vestiges de la conversion.
Fichier principal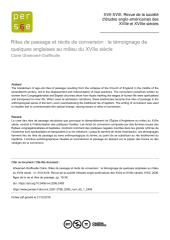 9 récits de conversion.pdf (371.4 Ko)
Télécharger le fichier
Origin : Publisher files allowed on an open archive