Interactions between oestrogen and 1α,25(OH)2-vitamin D3 signalling and their roles in spermatogenesis and spermatozoa functions
Oestrogens and 1α,25(OH)2-vitamin D3 (1,25-D3) are steroids that can provide effects by binding to their receptors localised in the cytoplasm and in the nucleus or the plasma membrane respectively inducing genomic and non-genomic effects. As confirmed notably by invalidation of the genes, coding for their receptors as tested with mice with in vivo and in vitro treatments, oestrogens and 1,25-D3 are regulators of spermatogenesis. Moreover, some functions of ejaculated spermatozoa as viability, DNA integrity, motility, capacitation, acrosome reaction and fertilizing ability are targets for these hormones. The studies conducted on their mechanisms of action, even though not completely elicited, have allowed the demonstration of putative interactions between their signalling pathways that are worth examining more closely. The present review focuses on the elements regulated by oestrogens and 1,25-D3 in the testis and spermatozoa as well as the interactions between the signalling pathways of both hormones.
L'œstradiol et la 1α,25(OH)2-vitamin D3 (1,25-D3 ou calcitriol) sont respectivement la forme la plus active des œstrogènes et la forme hormonalement active de la vitamine D. Ces stéroïdes peuvent exercer leurs effets biologiques après fixation à des récepteurs localisés dans le cytoplasme et le noyau (récepteurs dit nucléaires) ou par fixation à des récepteurs localisés à la membrane plasmique (récepteurs membranaires) à l'origine d'effets appelés génomiques et non génomiques respectivement. Bien que les œstrogènes aient longtemps été considérés comme uniquement des hormones féminines, de nombreux travaux ont permis de montrer leur importance dans le bon déroulement de la spermatogenèse et la qualité des gamètes. De même, la 1,25-D3 est capable de réguler les fonctions testiculaires suggérant son importance dans la fertilité. Les études réalisées sur leurs mécanismes d'action, bien qu'ils ne soient pas complètement élucidés, ont permis de mettre en évidence des interactions entre les voies de signalisation de ces deux hormones. Cette revue est centrée sur les évènements régulés par les œstrogènes et la 1,25-D3 dans les testicules et les spermatozoïdes et les interactions entre leurs voies de signalisation.
Fichier principal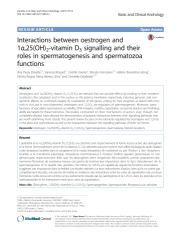 s12610-017-0053-z-1.pdf (1.75 Mo)
Télécharger le fichier
Origin : Publisher files allowed on an open archive