Characterization and EMC modeling of new power component technologies (SiC) : Application to power converters
Caractérisation et modélisation CEM des nouvelles technologie de composants de puissance (SIC). : Application : convertisseurs de puissance.
With the development of new large-gap power components with superior performance compared to their Silicon counterparts and the rising integration of these components in the electric vehicle, electromagnetic compatibility has become an important issue for compliance with normative standards. Hence, this thesis discusses the modeling methods of wide bandgap components. Problems related to the reliability of the models and their accuracy are highlighted. Then, a new model is proposed with specific formulations allowing it to better reproduce the static and dynamic characteristics of SiC MOSFETs. Test benches have been set up to characterize these new components with specific precautions in order to improve the precision of the measurements. The use of a developed genetic algorithm to identify the parameters of the proposed generic model, allowed a close reproduction of the characteristics measured experimentally of several SiC components as well as the EMC disturbances generated in a static converter.
Avec le développement des nouveaux composants de puissance à grand gap plus performants que leurs homologues en Silicium et l'intégration croissante de ces composants dans le véhicule électrique, la compatibilité électromagnétique est devenue un enjeu important pour le respect des normes de conformité en vigueur. La thèse traite donc les méthodes de modélisation haute fréquence des composants grand gap. Les problèmes liés à la fiabilité et la précision des modèles actuels sont mis en évidence. Ensuite, un nouveau modèle générique est proposé avec des formulations spécifiques lui permettant de mieux reproduire les caractéristiques statiques et dynamiques des MOSFETs en SiC. Des bancs de test ont été mis en place permettant de caractériser ces nouveaux composants avec des précautions spécifiques afin d'améliorer la précision de ces mesures. L'utilisation d'un algorithme génétique développé pour identifier les paramètres du modèle générique proposé, a permis une reproduction fine des caractéristiques mesurées expérimentalement de plusieurs composants SiC ainsi que les perturbations CEM générées dans un convertisseur statique.
Fichier principal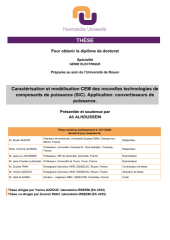 alialhoussein.pdf (27.32 Mo)
Télécharger le fichier
Origin : Version validated by the jury (STAR)