"La meilleure façon de marcher". Compléments de manière et propriétés sémantiques du prédicat verbal : l'exemple de "marcher"
This article aims at verifying empirically the existence of restrictions on the choice of manner adverbials depending on the meaning of the VP. The author establishes a list of the most important manner adverbials found with marcher ("to walk"), and then examines with which others (types of) VPs they can be associated.

Four sub-types are found:

1°) manner adverbials particular to marcher ("to walk", for example au pas cadencé "with a regular step");
2°) manner adverbials mostly associated with motion verbs (e.g. de long en large, "back and forth");
3°) manner adverbials appearing with VPs belonging to a small number of semantic fields (e.g. en file, "in file"; en rond, "round and round"; en zig-zag, "in zig zag");
4°) manner adverbials which can be used with a large number of VPs belonging to a large amount of semantic fields (lentement, "slowly"; joyeusement, "merrily"; en silence, "silently"; avec difficulté, "difficultly").
Cet article a pour objet la vérification empirique de l'existence de restrictions opérées par le sémantisme du prédicat verbal dans la sélection des 'compléments de manière'. Ayant établi un inventaire des principaux 'compléments de manière' du verbe marcher, l'auteur examine les autres (types de) verbes auxquels ils peuvent éventuellement être associés.

L'étude permet d'établir quatre sous-types : 1°) des compléments très spécifiques de ce verbe (au pas cadencé) ;
2°) des compléments essentiellement compatibles avec des verbes de déplacement (de long en large) ;
3°) des compléments se construisant avec des prédicats relevant d'un petit nombre de domaines sémantiques (en file, en rond, en zig-zag) ;
4°) des compléments susceptibles de caractériser un nombre important de prédicats ressortissant à des champs sémantiques variés (lentement, joyeusement, en silence, avec difficulté).
Fichier principal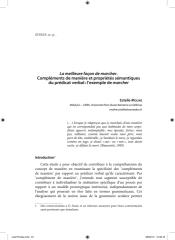 sco27moline1.pdf (278.49 Ko)
Télécharger le fichier
Origin : Publisher files allowed on an open archive