Mise en place d'un dispositif de connaissance, suivi et évaluation socio-économique et environnemental de la Nouvelle Aire Protégée (NAP) du Makay, Madagascar
Covering an area of approximately 4,000 km2, the New Protected Area of Makay, Madagascar, formalized in 2017, is emblematic of the richness of biodiversity, with an exceptional rate of endemism, and the natural and cultural heritage of Madagascar. This document presents the challenges and the methodological options for setting up a socio-economic and environmental knowledge, monitoring and evaluation system. The device consists of three articulated arms, combining social sciences and natural and earth sciences, both quantitative and qualitative: a quantitative arm of socio-economic and environmental surveys among the populations of Makay; an ecological monitoring arm; and a qualitative socio-anthropological arm. By putting the people who live on the edge of the Makay at the heart of the device, it proposes to push the frontier of existing information systems, still underdeveloped in this field, despite their decisive importance on a global scale, in order to better understand the links between conservation and development.
D'une superficie d'environ 4 000 km2, la Nouvelle Aire Protégée du Makay, Madagascar, officialisée en 2017, est emblématique de la richesse de la biodiversité, avec un taux d'endémisme exceptionnel, et du patrimoine naturel et culturel malgache. Le présent document expose les enjeux et les options méthodologiques pour la mise en place d'un dispositif de connaissance, suivi et évaluation socio-économique et environnemental. Le dispositif se compose de trois bras articulés, combinant sciences sociales et sciences de la nature et de la terre, aussi bien quantitatifs que qualitatifs : un dispositif quantitatif d'enquêtes socio-économiques et environnementales auprès des populations du Makay ; un dispositif de suivi écologique ; un dispositif qualitatif de type socio-anthropologique. En mettant les populations qui vivent aux pourtours du Makay au coeur du dispositif, il se propose de repousser la frontière des systèmes d'informations existants, à ce jour balbutiants dans ce domaine, malgré leur importance décisive à l'échelle mondiale, afin de mieux comprendre les liens entre conservation et développement.
Fichier principal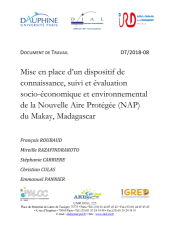 DTDIAL-2018-08 - Dispositif de connaissance suivi et évaluation de Aire Protegee du Makay - LAST.pdf (1.89 Mo)
Télécharger le fichier
Origin : Files produced by the author(s)