Insolvency Proceeding and Claim for Payment : Which Jurisdiction ? Comment of EUCJ September 2nd 2014 Nickel & Goeldner Spedition / Kintra (Case C-157/13).
Procédure d'insolvabilité et action en paiement du transporteur, quelle juridiction compétente ? Note sous CJUE 2 septembre 2014 - Nickel & Goeldner Spedition / Kintra (Affaire C-157/13).
L'action en paiement introduite par le syndic d'une entreprise lituanienne de transport en faillite contre son donneur d'ordres allemand ne rentre pas dans le champ du Règlement 1346/2000,faute de lien étroit avec la procédure collective. Dès lors, elle relève du Règlement 44/2001, même si ce dernier exclut en principe les faillites de son champ d'application, et plus particulièrement de l'article 5, point 1 b), s'agissant d'un contrat de service. Cette disposition cède le pas devant les règles de compétence spéciales édictées par l'article 31 de la CMR, en vertu de l'article 71 du Règlement 44/2001, pour autant que certaines conditions soient réunies(1).
Fichier principal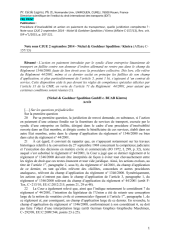 Cécile Legros - Action en paiement du transporteur - compétence juridictionnelle - Note sous CJUE 020914 KINTRA.pdf (288.58 Ko)
Télécharger le fichier
Origin : Files produced by the author(s)