The appropriation of prosthetic devices for reading computer screens and network interactions via tactile perception
The Tactos system of perceptual supplementation allows for tactile reading of shapes and spatial organisation of objects on computer screens. The aim of the present project is to extend the use of this device to situations of distal tactile interaction via the Internet network. Here we report the initial results of an analysis of patterns of use in context, in order to test the material and functional possibilities provided by this extension. Two blind adolescents, with different levels of expertise in using Tactos, have tested various technical possibilities and various contents. It appears that the use of new effectors is possible if a certain level of proficiency has been reached in the use of the stylus and the graphic tablet. Similarly, the question of recourse to bimodality is posed in order to improve the acquisition of reference points in space. Finally, the passage to a "group" situation seems to be necessary for the use of the device to give rise to shared meanings and the creation of norms.
Le Système de suppléance perceptive Tactos permet la lecture tactile des formes et dispositions spatiales d'objets sur l'écran de l'ordinateur. Le projet actuel est d'étendre l'usage de ce dispositif à des situations d'interaction tactile distale via le réseau Internet. Nous rapportons ici les premiers résultats d'analyse d'usage en contexte afin de tester les possibilités matérielles et fonctionnelles entraînés par cette extension. Deux adolescents aveugles, de niveaux d'expertise différents dans l'utilisation de Tactos, ont testé différentes possibilités techniques et différents contenus. Il apparaît que l'utilisation d'effecteurs nouveaux est possible si un certain niveau d'aptitude est atteint dans l'utilisation du stylet et de la tablette graphique. De même, la question d'un recours à la bimodalité est posée afin d'améliorer le repérage dans l'espace. Pour finir, le passage à l'utilisation en "groupe" apparaît nécessaire pour la création d'un sens commun et le partage de normes.
Fichier principal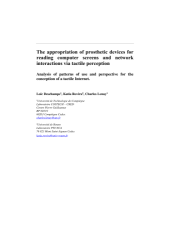 PapierHermes-Deschamps-Rovira-Lenay-version DRAFT.pdf (610.81 Ko)
Télécharger le fichier
Origin : Files produced by the author(s)