Port en Bessin fishermen's life and work : a changing maritime community, 1792-1945
Vie et métier des pêcheurs de Ροrt-en-Βessin : une communauté de marins en mutation, 1792-1945.
In a dissertation level, inshore occupations have been often given little attention compared to the French deep-sea fishing. Therefore, this halieutic life and activities research of littlefishermen community in Port-en-Bessin, could be inscribed in a air short historiography ofoutports wet fishery craft. Nevertheless, traditional port fishing, asserts itself during thesecond part of 19th century simultaneously to the great ports industrial fisheries. This up untilthen subsistence activity moves to a commercial level.The research and analysis leaded to this dissertation, enable to understand, how this littleNormand haven provided only with some small boats in 1792, becomes on the cusp of WW2the major port of Caen. Actually in order to keep their occupation longevity and despite thefinancial, environmental and political hazards, the seafarer community has managed to getused to them by taking on technical and social changes, unlike nearby fishing stations.Moreover, this study outlines a seafarers category, the skipper ship-owners. They seemparticularly prone to accept innovation leading the whole of the community to the halieuticfinancial success of small ports, whilst keeping the activity's essentials such as the "sharedwage"system. Lastly, regardless of the era and long way from the miserabilism often evoked,Port-en-Bessin fishermen made good use of the most difficult circumstances in order to keeptheir "material comfort" and get even some affluence.
Moins étudiés que les grandes pêches maritimes françaises, les petits métiers côtiers ne sontencore que peu abordés à l'échelle d'une thèse. Cette recherche à propos de la vie et desactivités halieutiques de la petite communauté des pêcheurs de Port-en-Bessin, s'inscrit doncdans une historiographie encore modeste à propos des pêches fraîches artisanales dans lespetits ports. Or parallèlement au développement des pêches industrielles dans les grands ports,la pêche artisanale portaise s'affirme dès le deuxième XIXe siècle et évolue d'une activité desubsistance vers une activité mercantile.Les recherches et les analyses menées dans cette thèse permettent de comprendre comment lepetit havre normand doté de quelques barques en 1792, devient à l'orée de la Seconde Guerremondiale le premier port du quartier de Caen. En effet, la communauté des gens de mer a su,contrairement aux stations de pêche voisines, malgré les aléas économiques, écologiques etpolitiques, s'adapter en adoptant les mutations techniques et sociales nécessaires à lapérennisation de son métier. Plus encore, à travers l'étude se dessine une catégorie de gens demer, les patrons-pêcheurs armateurs, qui tout en conservant les us traditionnels de l'activitécomme la rémunération à la part, semblent particulièrement enclins à une certaine innovation,emmenant avec eux l'ensemble de la communauté vers la réussite de l'économie halieutiquedu petit port. Enfin, quelle que soit l'époque, loin du misérabilisme souvent dépeint, lespêcheurs de Port-en-Bessin ont su tirer parti des situations les plus difficiles afin de conserverleur « aisance » voire même une certaine prospérité.
Fichier principal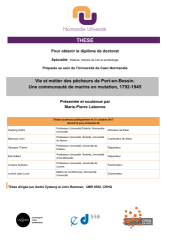 2017-LABONNE-MARIE-PIERRE-VD.pdf (95.63 Mo)
Télécharger le fichier
Origin : Files produced by the author(s)